The single screw steamer Copenhagen was built in Sunderland, England, and launched on February 22, 1898. She was registered at Glasgow and belonged to the Glasgow Shipowners Company, Ltd. The double bottom steel hulled ship was 325 feet in length, 47 feet in breadth, and 25.6 feet in depth. She was rigged as a schooner and powered by three triple expansion steam engines, and rated at 3,279 tons. Copenhagen was used to haul cargo across the Atlantic.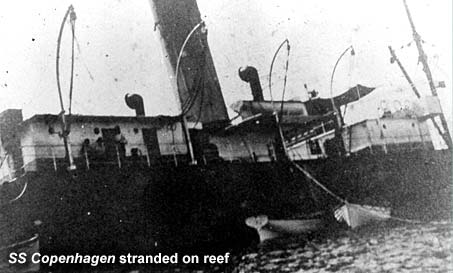 Copenhagen's last voyage began on May 20, 1900, out of Philadelphia, bound for Havana with 4,940 tons of coal. Six days later, off the Florida coast, she suddenly crashed at full speed into a reef, three-quarters of a mile offshore of present-day Lauderdale-by-the-Sea. The cause of the crash was investigated and ruled to be due to "improper navigation" by the captain of the ship.
Stranded on the reef, the crew began to unload the ship's cargo. After repeated attempts to free the ship from the reef, Copenhagen was abandoned as a total wreck. The vessel was valued at $250,000 and her cargo at $12,500.