San Pedro, a 287-ton, Dutch-built ship was part of the New Spain flota (fleet) that left Havana for Spain on Friday, the 13th of July, 1733. Under the command of Don Rodrigo de Torres aboard the Capitana (flagship), El Rubi Segundo, the convoy consisted of three armed galleons and eighteen merchant ships laden with tanned hides, rare spices, precious jewels, silver and gold - all of which were needed for the economic survival of Spain. Just two days into their journey, the fleet encountered a hurricane which scattered the vessels some 80 miles along the Florida Keys. The New Spain flota had been swamped by the storm; only one lucky vessel survived and safely returned to Havana to tell the tale of the disaster.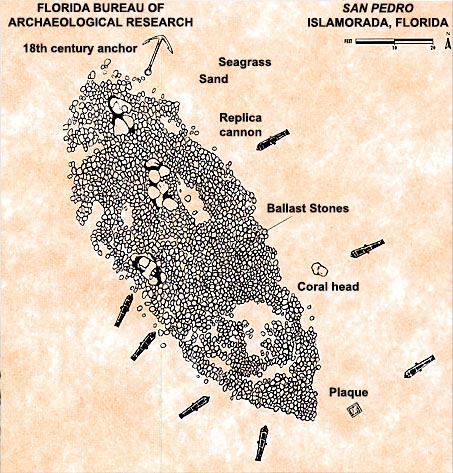 A thorough salvage of the wreckage was undertaken. The vessels that could not be refloated and towed back to Havana were burned to the waterline so that divers could descend into their holds and retrieve the remaining cargo. This was also done to help conceal the wrecks from freebooters who would attempt to loot the vessels. The salvage work continued for years, and locations of wrecks were charted on an official map. When a final calculation of salvaged materials was made, more gold and silver had been recovered from the ships than had been listed on the original manifests, a result of inevitable contraband.
Today, San Pedro, located in 18 feet of water, is among the most picturesque of the 1733 shipwrecks due to her location in a white sand pocket surrounded by turtle grass and prolific marine life that inhabits her remains. The vessel is one of Florida's oldest artificial reefs - host to a variety of sea creatures living amidst ballast stones and coral heads.